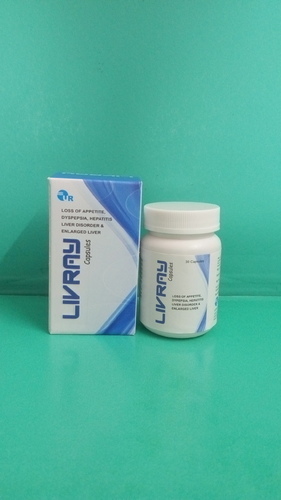 Liver Capsule
Product Description
We are well known enterprise involved in supplying and wholesaling premium range of
Ayurvedic Liver capsule.
High in demand to detox and cleanse the body, Livray is the best selling liver capsule generally recommended to the patients suffering from liver disorders, dyspepsia and hepatitis. The active ingredients in this tonic effectively work to relieve the digestive symptoms and support the process of water elimination in the body. Further, this syrup is processed with anti-inflammatory ingredients and can be ordered from us at a competitive price.

Liver Capsule Features:

Ayurvedic Liver capsule
Herbal Liver capsule
Liver capsule
Liver Problem Treatment
Hepatitis, Jaundice, Anorexia, Flatulence
Cirrhosis.